Top 10 Reasons Real Estate Agents Should Consider eXp Realty
(Updated: March 2020)
Which real estate brokerage should you join?
Looking to make a move to a new real estate company?
eXp Realty is definitely not for everyone. Neither was Netflix, Amazon, Air B&B, Uber or a host of other industry disruptors. The simple fact is, eXp Realty is here and if you haven't noticed yet ... blink.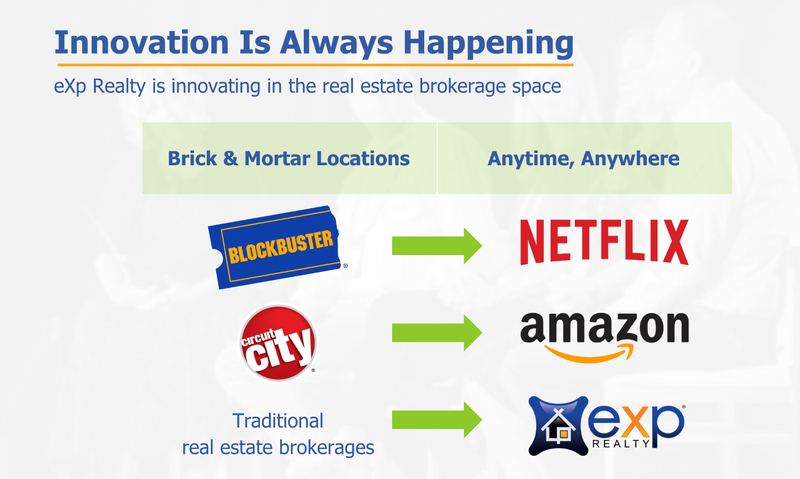 Whether you're just getting started or, like us, an award winning team, it's likely eXp Realty is right for you or will be soon.
Have You Been Seeing News or Hearing a Buzz About eXp Realty?
Why are so many top producing agents and mega real estate teams joining eXp Realty?
Better yet, why are some of the largest privately owned brokerages in the country bringing their entire companies to eXp Realty? Do yourself a favor and take a good hard look at their model. At first glance it may seem similar to others. We've always been under the impression that each company was a slight variation of the other. I'll admitt it, we were wrong!
Top 10 Reasons to Join eXp Realty with 5 Bonus Reasons
Competetive Commission Split With an Even Better Yearly Cap.
eXp Stock Awarded to All Realtors and Brokers.
The Industry's Best Revenue Share Program. WILL BLOW YOUR MIND!
Real Estate Training on Steriods – Over 50 Live Classes per Week From Many Super Agents Across the Country.
Marketing and Branding Support With 1000s of Templates That Actually Work!
Website With Lead Capture Included for Every Agent.
Enterprise, SkySlope, Workplace, 360 Tours, Full CRM and a Whole Lot More.
More Full Time Staff Members Than You Ever Thought Were Possible.
Real Time Tech Support M-F 8am to 5pm in All Local Time Zones.
Healthcare – Say What?!?!
Top 5 Bonus Reasons
eXp Realty's Core Values Are a Breath of Fresh Air.
Coaching Programs and a Mentorship Program That Is Unrivaled.
Curated Leads Through the Making It Rain Lead Generation Program.
Collaboration, Team Building and Network With Agents All Over the World!
Opportunity for Multiple, Life Changing Revenue Streams.
Are You Ready to Become a Shareholder at eXp Realty?
The eXponential growth of eXp Realty is quickly becoming the stuff of legends. To the many eXp Agents it's no surprise what-so-ever! REALTORS and Brokers, teams, offices large and small are flocking to eXp at an unprecedented rate. Has there ever been a company with this type of growth pattern. The answer is yes, with a HUGE asterix. It took them over 30 years!! In 2015, eXp Realty had 615 agents. Today there are over 26,000 in the US alone! It's growing at such a rate that mere months from now that figure will be outdated. Realtors are attracted to the commission splits, lead gen tools, revenue (see revenue share vs profit share) share program and the opportunity to be an owner in this now global company.
The cloud office is perfect for REALTORS like us who are always on the move. Would you like to wake up in the morning, walk into your brokers office, wave goodbye and walk straight over to the corporate accounting office to ask a question? With eXp, you can and you will! Have you ever been to a large real estate convention? Imagine similar training environments every day. Around every corner we've been pleasantly surprised about everything eXp has had in store. Is it perfect? I mean .. well .. yeah, it kind of is. At least until the next big disruptor comes along to shake things up again.
Is eXp Realty right for you?
You won't know until you give it a fair shake. Thinking that it's just like all the others is the biggest regret you'll ever have in your life. I know it was for us. We had an opportunity to hear about eXp a few years ago and thought "what can they possibly have that other brokerages don't have." Probably the same thoughts people initially had of all of the now household names listed above. Let's meet up at your local Blockbuster and I'll show you what it's all about. Oh, wait ...
Want to Learn More About eXp Realty?
There is so much to learn about something you didn't even know was possible at this point. We do our absolute best to stay up-to-date on the latest and greatest eXp has to offer, but you'll soon find out it gets bigger better every. single. day.
Even More Information and Buzz About eXp!
eXp Training on YouTube with Jay Kinder and Michael Reese